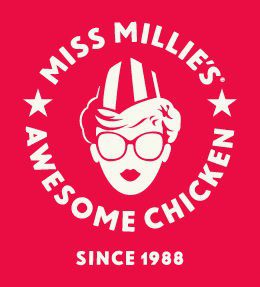 Brand:
Miss Millie's Awesome Chicken
Investment:
From £190,000 - £450,000 per unit
Miss Millie's has been serving awesome chicken across the South West and Wales for over 30 years. But our roots in the fried chicken industry stretch back even further – to 1965 when our former Chairman, Harry Latham, set up KFC in the UK, alongside his partner Ray Allen. Harry then served as the Managing Director of KFC UK in the 1970's before opening stores in 1988 in the South West under the Miss Millie's brand.
As Harry and his family were good friends with Colonel Sanders of Kentucky Fried Chicken, he decided to name the new operation after the Colonel's daughter, Mildred. The family owned and ran the chain up until it was bought by new management in 2019. Today, Miss Millie's has 11 branches across the UK in Bristol, Weston-Super-Mare, Yate ,Billericay, Southampton and Walthamstow – with more to come As Miss Millie's enters an exciting new era, with a new look, new menu, new restaurants, and a new leadership team, we are perfectly placed to franchise across the UK and Europe.
Your Miss Millie's journey starts with our robust training programme. This supports new partners and franchisees from the start to maintain their store. Over a 5 week training period which covers management training, quality control, supply chain , HR, Legal, Marketing .
Once you are open our dedicated team will be on hand to help, with Quarterly reviews, training , brand excellence audits and ongoing coaching.
If this opportunity sounds of interest please get in touch.